Massive Recall for Detaching Seat Belts in the 6th Generation Sonata and Sonata Hybrid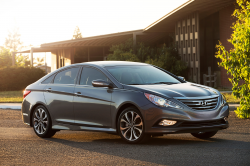 Nearly 978,000 Hyundai Sonata and Sonata Hybrid cars have been recalled to fix seat belts that have been detaching from their anchor pretensioners. Hyundai and the seat belt supplier inspected the vehicle and the supplier recovered the parts in December 2016. Both companies started internal investigations, but neither has been able to determine what is causing the seat belt failures … The automaker says to ensure the safety of consumers, the recall will include 2011-2014 Sonata and 2011-2015 Sonata Hybrid cars.
The recall, which covers most of the 6th generation Sonata and Sonata Hybrid, follows an investigation by the National Highway Traffic Safety Administration (NHTSA) opened earlier this year.