Seat Belts Detatch During a Crash
Key Points
The Hyundai Sonata's seat belts can detatch from the car's frame during a crash.
The NHTSA opened an investigation into the problem in 2017 that led to a large recall.
The recall's repair came under quick scrutiny, however, leading to a second recall that same year.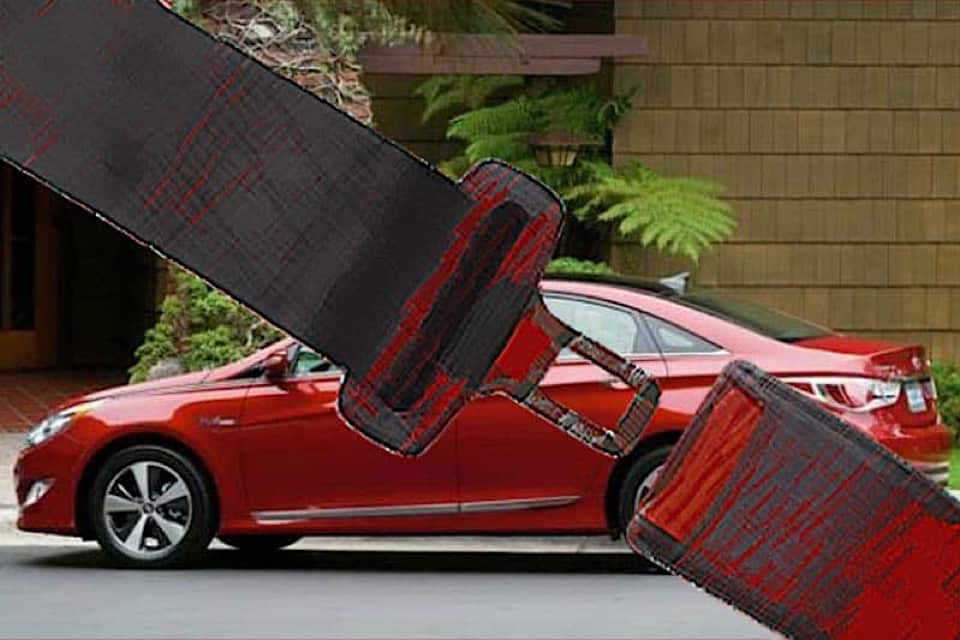 Following owner complaints that their seat belts were detatching in crashes, the National Highway Traffic Safety Administration (NHTSA) opened an investigation into the 2013 Sonata.
The Seat Belt Pretensioner Recalls ∞
By March 2017, Hyundai announced a massive recall of the seat belts in the 6th generation Sonata and Sonata Hybrid.
However, there was some debate about the handling of the recall repair. That prompted a second recall in October.
Although the condition of a partially latched anchor pretensioner was fixed through the recall campaign, the condition could potentially happen again if the anchor pretensioner was intentionally disconnected and then improperly reconnected by consumers or repair facilities.
Once that problem was addressed, the investigation was closed.
The front seat belt assembly in the Hyundai Sonata uses a seat belt anchor pretensioner fastened to the car's inner structure. The anchor pretensioner is fastened to the inner sill before it's connected to the seat belt linkage.
However, the seat belt can detach from the anchor pretensioner if the connector does not fully latch when the linkage is pressed onto the connector.
When car senses it is in a crash, it will send a signal to the seat belt pretensioner. A small explosive is deployed to take the slack out of the belt, pulling the belt down onto the occupant to keep them tighter to the seat.
Generations Where This Problem Has Been Reported
This problem has popped up in the following Hyundai generations.

Most years within a generation share the same parts and manufacturing process. You can also expect them to share the same problems. So while it may not be a problem in every year yet, it's worth looking out for.
OK, Now What?
Maybe you've experienced this problem. Maybe you're concerned you will soon. Whatever the reason, here's a handful of things you can do to make sure it gets the attention it deserves.
File Your Complaint

CarComplaints.com is a free site dedicated to uncovering problem trends and informing owners about potential issues with their cars. Major class action law firms use this data when researching cases.

Add a Complaint

Notify CAS

The Center for Auto Safety (CAS) is a pro-consumer organization that researches auto safety issues & often compels the US government to do the right thing through lobbying & lawsuits.

Notify The CAS

Report a Safety Concern

The National Highway Traffic Safety Administration (NHTSA) is the US agency with the authority to conduct vehicle defect investigations & force recalls. Their focus is on safety-related issues.

Report to NHTSA