Sonata Theta-II Lawsuit Settlement Gets the Green Light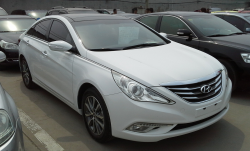 A Theta II engine settlement for Mendoza v. Hyundai Motor Co. Ltd., et al. has been approved by the court. A Hyundai Sonata class-action lawsuit will receive final approval after U.S. District Judge Beth Labson Freeman said she sees no problem with the settlement terms and believes the agreement is excellent for Sonata owners.
Hyundai was accused of concealing defects with their Theta II GDI engines, and the settlement helps owners of the 2011-2014 Sonata with either the 2L or 2.4L variant.
Hyundai will help pay the cost of repairs or replacements
Hyundai will reimburse owners for rental and towing expenses
Hyundai will extend the warranties on these cars from 5 years / 60,000 miles to 10 years / 120,000 miles.
One important distinction – if an eligible Sonata has more than 120,000 miles, owners will only have 90 days to get the cars into dealerships for repairs.