Santa Fe Engine Stalls Out of Nowhere
Key Points
The 2nd generation Santa Fe's engine can stall without warning at any speed.
A 2014 service campaign says heavy load on the alternator for the sudden drop in RPMs, and offered a software update solution.
The software solution didn't work for many owners, leading to a class-action lasuit.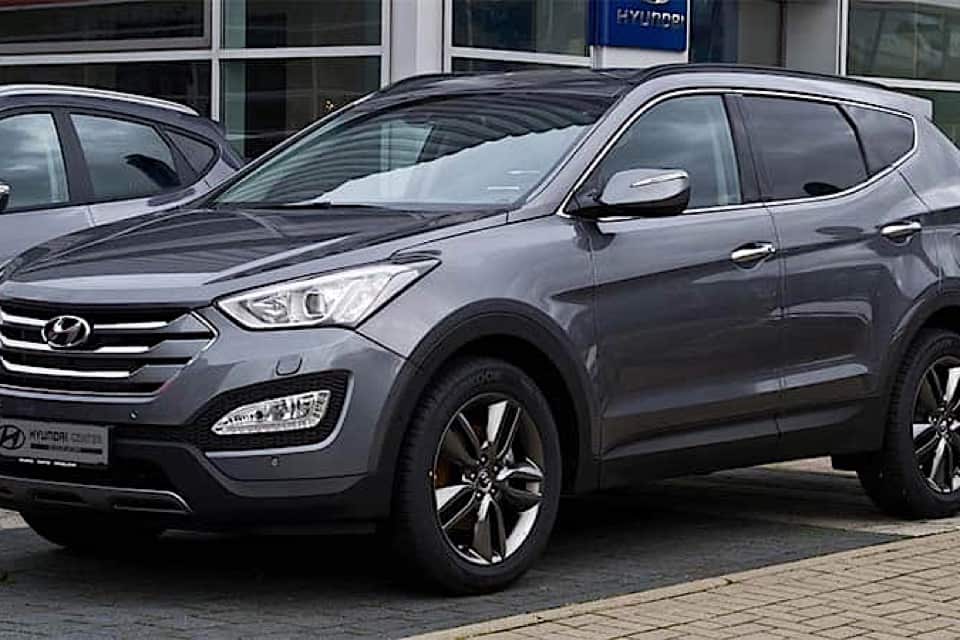 Want to know my trick for staying awake during long drives? No, it's not coffee -- although let's be real, there will be coffee involved. Just put me behind the wheel of a 2010-12 Hyundai Santa Fe. How's that? This SUV has an engine with a nasty reputation of stalling at any speed, any time, without any warning. That means no acceleration. No power steering. No power brakes. And one change of pants.
That's the type of adrenaline only pure fear can provide. Goodbye, Red Bulls!
Tracing the Problem ∞
So what's the deal with these narcoleptic SUVs? Owners have been bringing their cars in for service to find out. So far, the overwhelming response has been "sorry, we can't replicate the issue." That's kind of like your doctor saying "Maybe you passed out and hit your head at home, but you're awake now so I'm sure you're fine."
Make no mistake, however, dealer mechanics are more than willing to replace your battery or clean your throttle body before handing you a hefty bill and sending you on your merry back to stall town. Sure, those repairs sound like a good idea but owners report they do nothing to fix the problem.
Then came Hyundai's "service campaign" in mid-2014. Despite denying the existence of the problem to any owners who called, Hyundai started warning dealers that yep -- these SUVs are stalling. The campaign mentions that a heavy load on the alternator is resulting in a sudden drop in RPMs but only at low speeds.
The "service campaign" suggested a free fix in the form of a software update.
Santa Fe Stalling Engine Class Action Lawsuit ∞
In August, 2014, a couple weeks after the release of the service campaign, a class action lawsuit was filed over the stalling engines.
The suit says the automaker denied the problem to consumers all the while collecting evidence by installing monitoring devices on the vehicles brought in for service. Of course none of that was mentioned to the owners, which is James Bond villain level creepy.
Furthermore, the suit says the "service campaign" is a crock -- not only does the stalling issue happen at all speeds, but the "software update" doesn't go far enough to fix the root of the problem.
Hyundai didn't take too kindly to the lawsuit. They called the plaintiffs "opportunistic" and accused them of "rushing to the courthouse" after the release of the service campaign. Basically, they called them leeches. Looks like someone didn't read Public Relations 101.
Hyundai has demanded the case be dropped but that has yet to happen. For more information on the lawsuit see this article on CarComplaints.com.
Owner Testimonials ∞
"This car is a lemon. It suddenly loses power at any speed between 40-80 miles per hour. Dealer has replaced the throttle body three times, supposedly they claim its a "software" update that's needed. It is totally unreliable." - Plantation, Fla.
"As I am driving my car the engine suddenly stops without warning. There is no indication that anything is wrong, no sudden sounds or vibration, and no warning lights on the dashboard. This problem has occurred 3 times within six weeks. I am very disgusted and do not feel safe driving in my car much less putting anyone else at risk." - Glen Rock, N.J.
Now it's Your Turn ∞
Have you experienced an engine stall in the 2010-12 Hyundai Santa Fe? Tell us about it here.
Or read other owner's engine complaints for the 2010, 2011 and 2012.
Generations Where This Problem Has Been Reported
This problem has popped up in the following Hyundai generations.

Most years within a generation share the same parts and manufacturing process. You can also expect them to share the same problems. So while it may not be a problem in every year yet, it's worth looking out for.
OK, Now What?
Maybe you've experienced this problem. Maybe you're concerned you will soon. Whatever the reason, here's a handful of things you can do to make sure it gets the attention it deserves.
File Your Complaint

CarComplaints.com is a free site dedicated to uncovering problem trends and informing owners about potential issues with their cars. Major class action law firms use this data when researching cases.

Add a Complaint

Notify CAS

The Center for Auto Safety (CAS) is a pro-consumer organization that researches auto safety issues & often compels the US government to do the right thing through lobbying & lawsuits.

Notify The CAS

Report a Safety Concern

The National Highway Traffic Safety Administration (NHTSA) is the US agency with the authority to conduct vehicle defect investigations & force recalls. Their focus is on safety-related issues.

Report to NHTSA