797,000 Tucson SUVs Recalled for ABS Fires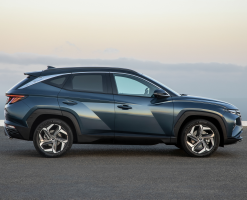 Owners of the 3rd generation Tucson (2016-2021) are being urged to not park near anything that can burn until they have their ABS fuses replaced. If you're wondering if that's as bad as it sounds, it is. Multiple SUVs have caught on fire, both while parked and in motion, leading to a recall of nearly 800,000 vehicles.
The problem is due to a short circuit in the hydraulic electronic control unit (HECU) of the antilock braking system (ABS). An investigation found that the fires may not occur if the operating current in the ABS module traveled through a lower amperage fuse so they want to swap the current 40-amp fuses for 25-amp versions. I'd personally like a little more certainty than "may not occur," but that's just me.
About the Recall ∞
The recall covers the 2016-2021 Tucson SUV built between 05/19/2015 and 11/16/2020 in South Korea. Any vehicles with "Smart Cruise Control" are not affected.
Hyundai insists the cars are safe to drive even though some have caught fire while in motion. I'd recommend watching out for warning signs such as illuninated ABS lights, burning smells, or flames bursting through your hood. You know, subtle stuff like that.
Definitely don't park in a garage or near your house until this is fixed.
It was only a couple months ago that the 2019-2021 model years were recalled for fires in electronic control units. What a hot mess.