Lawsuit Says Not Enough Vehicles Were Covered in the Theta II Recalls
Posted on

Tagged

Source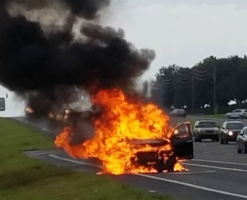 Another owner has sued Hyundai and Kia for knowingly equipping vehicles with defective Theta II engines. Proving once again that when it comes to engines that catch on fire, people generally aren't fans. The automakers have settled similar lawsuits and issued recalls for these clunkers, but the plaintiff suggests not all affected vehicles were included.
About the lawsuit ∞
These gasoline direct injection (GDI) engines are plagued with problems. From bearing failure, to connecting rod knocks, to oil consumption, and yes – engine infernos.
The plaintiff bought their car used and shortly after learned that the car needed a new short block to the tune of $7,000. The work also took 6 months because there're a backorder on parts.
In December Hyundai recalled 128,000 vehicles over concerns they could catch on fire. But the lawsuit wants more coverage for the 2012 Santa Fe
2011-2013, 2016 Sonata Hybrid, and 2015-2016 Veloster.
This post originally appeared on
kiacomplaints.com
The Theta II is a gasoline direct injection (GDI) engine that is well known for a lot of things and none of them are good. Bearing failure, metal debris riding on contaminated oil, piston ring defects, siezing, knocking, crying.