2013 Veloster Recalled for Engine Management Defect That Can Cause Fires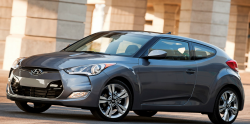 Knock, knock – there's a major defect in the 2013 Velostar's engine management software.
A defect that manages to find a way to prematurely ignite the air/fuel mixture in 1.6-liter turbo engines. This puts way too much pressure on the cylinders resulting in knocking noises, stalling incidents, and engine fires. The 16,500 recalled vehicles will get the same software update given to 2014 owners, which Hyundai says improved these conditions.