Short-Circuting ABS Modules Have Been Setting Hyundai Cars on Fire
Key Points
An alarming number of Hyundai vehicles have caught on fire due to short-circuits in the ABS system.
The electrical shorts have been caused by water leaking from the outside and brake fluid leaking on the inside.
Hyundai has issued a number of recalls to address the problem, but there's concern the problem isn't under wraps just yet.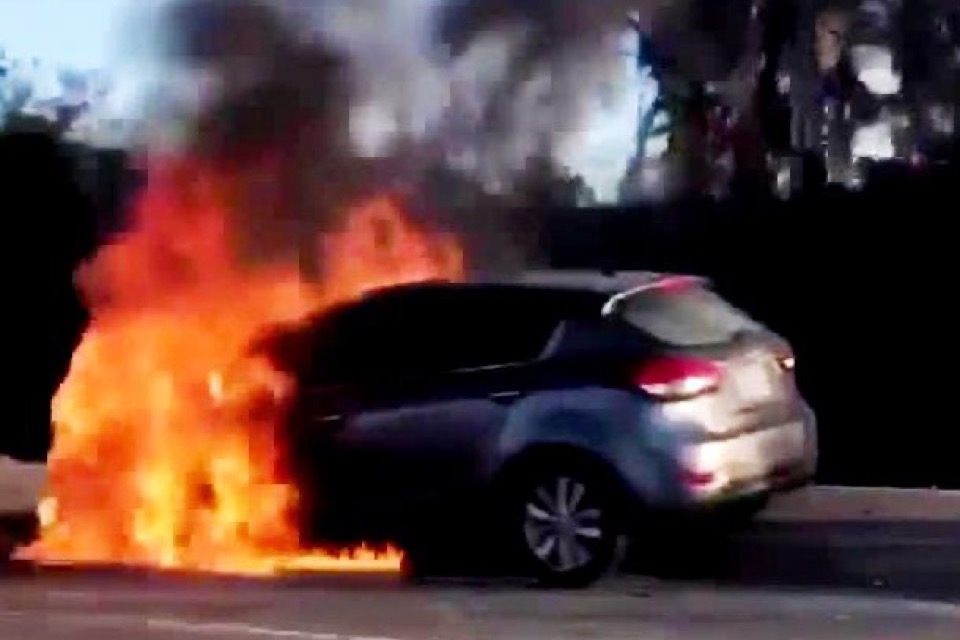 There are a disturbing number of fires starting in the antilock braking system (ABS) of Hyundai vehicles. The fires start from short-circuits within the ABS due to liquid contamination and corrosion. At first the problem was liquid leaking into the ABS, later on it was brake fluid leaking from within the ABS. Two different problems that share the same culprit (faulty seals) and disastrous results.
Water Leaking Into the ABS ∞
Hyundai first learned about ABS modules overheating in December 2016 from a Korean report. The automaker combed over warranty reports and analyzed numerous reports, but couldn't find any evidence of defects.
The following June, Hyundai found an electrical short inside the ABS module of a vehicle that started to smoke inside the engine compartment.
A problem whether the car is on or off ∞
Hyundai found that water had leaked into the module and that a defective seal was to blame. In any scenario this is a bad thing because water and electronics aren't great friends. There was concern that the module could short-circuit and cause a spark capable of starting an engine fire.
The worry was doubled, however, because Hyundai's ABS module remains powered even after the vehicle is turned off. That means those fires could happen at ay time, whether the car was running or parked in a garage for the night.
The first recall for external leaks ∞
In January 2018, Hyundai announced they'd be recalling 88,000 vehicles to prevent ABS fires. The recall covered the 2006-2011 Azera and 2006 Sonata and owners were urged to park outside and away from structures until their vehicles had been repaired.
To fix the problem, the automaker planned on installing relays that shut off power to the ABS modules once the ignition switches were turned off.
The recall (#172) began on February 23, 2018.
A second expanded recall ∞
In February 2020, Hyundai increased the total number of recalled vehicles to 430,000 after additional reports of engine fires from Elantra owners.
The recall (#188) started on April 3rd, 2020 and covered the 2006-2011 Elantra and 2007-2011 Elantra Touring.
A lawsuit says the recalls didn't go far enough ∞
Following the first two recalls, a class-action lawsuit accused the automaker of not providing Hyundai and Kia owners with enough protection from ABS fires and a separate issue with fires starting in hydraulic electronic control units.
The plaintiffs said the recall remedies are band-aids and didn't do anything to address potential fires starting while the car was turned on.
Brake Fluid Leaking From Within the ABS ∞
As Hyundai focused their efforts on preventing water leaking into certain AB systems, an equally destructive leak was forming on the inside of the Santa Fe Sport's ABS.
The piston seals of the ABS module's hydraulic valve unit were faulty due to problems at the parts supplier, Mando. The busted seals allowed brake fluid to leak into the electronic control unit (ECU) and the end result is the same ... warning lights, burning odors, and smoke / fire from the engine compartment.
Hyundai first learned about this in April 2018 when a 2014 Santa Fe Sport caught on fire, but at the time they couldn't figure out the problem. Additional fires were found when searching warranty records.
The first recall for internal leaks ∞
In September 2020, Hyundai recalled 151,000 Santa Fe Sport SUVs after 15 reports of engine fires. A 3rd party testing lab found evidence of electrical shorting caused by corrosion on the ABS module ECU's printed circuit board.
The recall (#194) covered the 2013-2015 Santa Fe Sport and began on October 23, 2020.
More fires lead to a second recall ∞
But the fires kept coming (18 and counting), causing Hyundai to expand the recall to more than 203,000 Santa Fe Sports by May 2021.
Hopefully to fix the problem for good, Hyundai plans on:
Using improved internal valve seals to prevent future leaks.
Using an ABS multi-fuse rated at a lower amperage to protect against too much current possible causing a short-circuit.
The recall (#205) is expected to begin on June 25, 2021.
Watch Out For Future Fire Problems ∞
Overall the recalls are a good sign that Hyundai is taking the problem seriously and willing to try and fix it. But their track record leaves much to be desired.
I'd suggest if you smell something burning / melting, or you see an ABS warning light to park your car, turn it off, and get it towed to a Hyundai dealership as soon as possible. Hopefully on their dime.
Hyundai Vehicles Recalled for ABS Fires

| Model | Years | Type of ABS Leak | Total Recalled |
| --- | --- | --- | --- |
| Azera | 2006-2011 | External | 88,000 |
| Sonata | 2006 | External | 88,000 |
| Elantra | 2006-2011 | External | 430,000 |
| Elantra Touring | 2007-2011 | External | 430,000 |
| Santa Fe Sport | 2013-2015 | Internal | 151,000 |
| | | Internal | 203,500 |
Lawsuits Regarding This Problem
Lawsuits about this problem have already been filed in court. Many times these are class-action suits that look to cover a group of owners in a particular area. Click on the lawsuit for more information and to see if you're eligible to receive any potential settlements.
A Hyundai ABS module recall announced earlier this year allegedly wasn't good enough to protect Hyundai vehicles from fires. And according to a class action lawsuit, previous Hyundai ABS module recalls haven't provided protection from fires that can occur when water corrodes the modules.
Generations Where This Problem Has Been Reported
This problem has popped up in the following Hyundai generations.

Most years within a generation share the same parts and manufacturing process. You can also expect them to share the same problems. So while it may not be a problem in every year yet, it's worth looking out for.
OK, Now What?
Maybe you've experienced this problem. Maybe you're concerned you will soon. Whatever the reason, here's a handful of things you can do to make sure it gets the attention it deserves.
File Your Complaint

CarComplaints.com is a free site dedicated to uncovering problem trends and informing owners about potential issues with their cars. Major class action law firms use this data when researching cases.

Add a Complaint

Notify CAS

The Center for Auto Safety (CAS) is a pro-consumer organization that researches auto safety issues & often compels the US government to do the right thing through lobbying & lawsuits.

Notify The CAS

Report a Safety Concern

The National Highway Traffic Safety Administration (NHTSA) is the US agency with the authority to conduct vehicle defect investigations & force recalls. Their focus is on safety-related issues.

Report to NHTSA